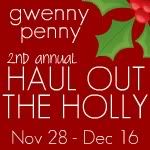 Hello there & welcome if you're visiting from Gwenny Penny!
I was so honored when Gwen asked me to participate in Haul out the Holly this year!
It honestly didn't take me very long to come up with this idea. I was preparing for my first craft fair around the time she asked me to participate and I had pennants on my mind.... thus:
Santa Pennant Garland!
Let's get started!
Materials:
1/4 yd red flannel
1/4 yd white or cream flannel
desired length of 1" black satin ribbon (3-4 yds)
coordinating thread
spring loaded scissors (not required but recommended)
cardstock and marker
Let's make our triangle pattern:
1. draw a 5" line which will be the top of the triangle
2. draw a 5" line perpendicular to the first line (creating a T)
3. connect the lines to form your triangle
Cut out your pattern and grab your rotary cutter and we'll cut out our fabric.
I folded my fabric and cut 4 layers at a time. You need 2 triangles of each color for each finished pennant. The number depends on how long you are making your garland.

Now lets layer our pennants.

Bottom layer- red
2 middle layers- white
Top layer- red
Pin your layers together. You should have a stack ready to head to your machine.
Sew along the 2 sides using a 3/4" seam allowance (mine fluctuated between 1/2"-3/4" but in the end you won't notice if they aren't perfect).
Grab those spring loaded scissors (great if you do rag quilting... which is why I bought them... still haven't made a rag quilt yet though! haha)
Start snipping 1/4" segments along both sides of each triangle. Leave the top uncut & do not cross the line you sewed.
I went ahead and sprayed it down with water and threw it in the dryer to shrink it.
Now we'll add the ribbon along the top. Leave a tail of 6" before your first triangle. I just folded the ribbon over the top of the triangle and pinned it in place. I did not leave any space between each triangle.
I started sewing at the first triangle making sure to backstitch (at the end too) so it wouldn't come unraveled.
Now I threw it in the washing machine to really get it to fluff up. You might want to do this a couple times... the more the merrier!
Isn't it lovely on my banister?
I thought I'd try it on our large front window... tried taking a picture of the whole window but the light outside was playing tricks on my camera!
Oh, and you might be wondering where the bow came from. When I went to unwind my ribbon off the spool it was in 2 pieces so this is how I remedied it... I really like the bow!
Thanks Gwen for allowing me to participate in your 2nd annual Haul Out the Holly series!